11 Dec

Turkey Time: DSU's community Thanksgiving dinner

Written by Kayden Heckaman, DSU Student Intern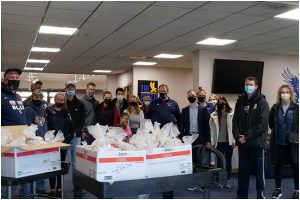 Turkey, mashed potatoes, cranberry sauce, and stuffing. The mere mention of the Thanksgiving holiday conjures up images of abundant amounts of food. Enough food that one would be full for days, or even eat leftovers for a week! However, some people are not that lucky, and this year has been hard on many families. While some families have lost loved ones, others have fallen on financial hardship and have even lost their jobs because of the current pandemic. For some, the holidays can be a way to enjoy the company of their family and friends, and for a while, they can forget about the problems in their life all while they enjoy a homecooked meal.
For the last few years, Dickinson State University (DSU), in partnership with Sodexo Dining Services, has held a free community Thanksgiving dinner. Normally, DSU students, faculty, staff, and alumni along with local organizations and volunteers help to put on this event. This meal has become a way for the University not only to give back to the Dickinson community, but to also show its gratitude by providing a free meal during the Thanksgiving holiday. In the past, different organizations have sponsored the community dinner. For this year's dinner, support from multiple organizations and businesses made the event possible. These included the DSU Campus Activities Board, Dickinson Rotary Club, Blue 42 Restaurant and Grille, Sodexo Dining Services, and Coca-Cola Bottling. This dinner was not only the effort of the University and the event sponsors, but also of people that care about their fellow neighbor.
This Thanksgiving dinner is free and open to anyone in the community because like any traditional meal, there is an abundance of food! As everything has been affected this year by the COVID-19 pandemic, this year's Community Thanksgiving Dinner had to be changed in order to meet public health guidelines. Normally, the Thanksgiving dinner is your usual traditional sit-down meal at The Perch, the dining facility in the Student Center. With this traditional kind of meal, people can enjoy the company of one another while they enjoy their meal. However, this was not the case for this year. In order to still hold this annual event, it became a drive-thru dinner. For this special drive-thru format, those who wanted to reserve a meal to pick up during the "dinner" could sign up as early as three weeks before the day of the event. Then during the morning and early afternoon on Thanksgiving Day, those who reserved a meal could stop by their designated pickup location to gather their meal and take it home.
Even though this "dinner" was changed to take-out only that did not mean that the food had to change! Each of the meals came with turkey, mashed potatoes and gravy, sweet potatoes, green beans, a dinner roll, peaches, cranberry juice, and a slice of pumpkin bread. Everything you could want for a Thanksgiving meal and enough to keep a person's stomach full! And even with the change to the format, the event was able to provide over 930 meals to the community which is about the same amount as previous years.
They say that food brings people together and there has been no exception this year. Despite the pandemic looming over everyone's head, a community was still able to come together to provide meals to those in need. During times that are stressful, people in a community should come together to help one another. Communities should stand united and not be divided during times of need. Whether it is donating their time or items or even opening their homes to neighbors who need support, any act of kindness does not go unnoticed. "No act of kindness, no matter how small, is ever wasted." These words from the ancient Greek storyteller, Aesop, ring true even in our modern-day society, and they hold true for the Thanksgiving Community Dinner. In these uncertain times, people within our community have been able to come together and show that they care for one another and that, no matter what happens, a community is still a community. It is with these acts of kindness that communities are able to grow strong and strive through the hard times.