12 Mar

DSU TRHLP scholars volunteer to paint local House of Manna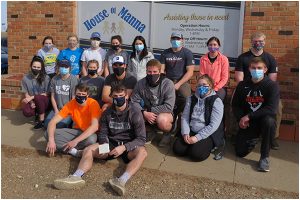 The scholars of the Theodore Roosevelt Honors Leadership Program (TRHLP) at Dickinson State University (DSU) spent two Saturdays, Feb. 27 and March 6, giving back to the Dickinson community by volunteering at a local charity: House of Manna.
The COVID-19 pandemic had a negative impact on TRHLP's typical fundraising and volunteer efforts in fall 2020. They haven't been able to host community events as usual, so the scholars searched for ways they could provide more hands-on services during the spring 2021 semester. Heather Fahy, a DSU student who volunteers at the House of Manna independently and serves on TRHLP's Executive Committee, brought forth the idea to volunteer at the charity. The committee had been looking for opportunities for the scholars to volunteer together in order to allow them to develop strong connections within their TRHLP "family" because of the separation they felt due to the pandemic.
Alexa Delbridge, a DSU student and one of TRHLP's Student Assistant Directors (SAD), contacted Nann Rapp, the manager of the House of Manna, to organize the event. Delbridge said, "This opportunity arose out of the interest of one of our scholars, who then brought it to us SADs, and, long story short, the whole situation was an answer to both the House of Manna's and TRHLP's prayers."
When the group first arrived, they were both excited and nervous as they didn't fully understand what they had agreed to; none of those participating had ever been to the facility! As they entered the building, they knew right away why TRHLP and the House of Manna were the perfect fit for one another: the inside walls were mustard yellow, and the whole space was very dark and was in need of a facelift. As a team, the scholars painted the walls, ceiling, and shelving in three rooms white in order to brighten up the space and welcome those who visit.
About 20 scholars volunteered the first weekend, and the project was wrapped up over the second weekend, with about 30 scholars' help. Haylie Oberlander, a DSU student and TRHLP SAD, said, "We didn't really have a lot of opportunities for our group to work together and grow friendships… They teamed-up to work on certain areas, and they weren't people they'd get to talk to all the time, so it was cool to see them stepping out of their comfort zone." Delbridge continued, "We had a great turnout… and our scholars did a great job at diving in and putting in the work."
"They helped tremendously and we never would've gotten those rooms painted without them," said Rapp. The charity had to close its doors for a few months in 2020 because of the pandemic, and, while it gave them the opportunity to make improvements to the facility, completing such a large paint job was nearly impossible. "We got half of the building painted during our COVID-19 closure, and it would've taken so much time to finish the rest. They did a tremendous job! I was so happy when they called, because they said they were looking for a project where they could give back to the community, and I said, 'Oh, I've got the perfect thing!'"
The House of Manna is open Mondays, Wednesdays, and Fridays and accepts items, like clothing; household goods, like small appliances and furniture; as well as some food items; that are dropped off at their location at 1100 East Villard in Dickinson. The House of Manna helps those in emergency situations and those are unable to meet their needs. The charity accomplishes this purpose by accepting donations which are then organized and made available on a free-will offering basis.
For the full album of photos, visit DSU's Flickr page!