15 Apr

Lenning and Moberg to address graduating class at DSU's 2021 spring commencement ceremony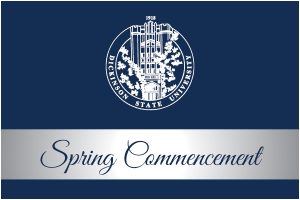 Dickinson State University (DSU) students Aspen Lenning and Abigail Moberg will address graduates at the institution's 101st spring commencement ceremony Saturday, May 15.
Graduates and their families from spring, summer and fall of 2020, as well as spring and summer of 2021, are invited to participate in the ceremony which will be held outdoors at the Biesiot Activities Center (398 State Ave. N) in Dickinson beginning at 10 a.m.
Aspen Lenning is from Plaza, North Dakota, and is the daughter of Chris and Jennifer Lenning. She will be graduating with a Bachelor of Science in Agricultural Studies Natural Resource Management option with a minor in Leadership Studies. While a student at Dickinson State, Lenning was the DSU Collegiate Farm Bureau president, vice president of Student Senate and was a member of Agricultural Club, International Club, and the Theodore Roosevelt Honors Leadership Program, among others. She also represented DSU in many collegiate competitions and was a writing and agricultural tutor for more than three years.
Lenning was a top four finisher at the 2021 Young Farmers and Ranchers discussion meet, the first-place overall speaker at DSU's Opportunities in Agriculture, and has made at least the dean's list every semester. Lenning has accepted an assistantship with Oklahoma State University where she will pursue her master's degree with future plans of becoming an Extension Agent.
Abigail Moberg is a native of Dickinson, North Dakota, and is the daughter of Kevin and Susan Moberg. She will be graduating with a Bachelor of Science degree in Biology with a Pre-Medical Science option and a minor in Leadership Studies. While at DSU, Moberg was a member of the Psychology Club, Science Club, and Housing and Dining Association. She is the outgoing president of Student Senate, where she served as a senator all four years, including service on the executive committee for three. Through that organization, she represented DSU as the head delegate to the North Dakota Student Association.
Moberg was a resident assistant in Delong Hall for one year and was active in the Department of Arts and Letters, singing in two choirs for two years and competing at regional choral events. She is a scholar in the Theodore Roosevelt Honors Leadership Program and has been on its executive committee all four years, earning the Noticed Involvement Award multiple times. Moberg also worked at the DSU Heritage Foundation for three years as a student worker. This year, she was the student speaker at Dickinson State's Convocation ceremony and at President Easton's investiture ceremony. This summer Moberg will be moving to the Caribbean island of St. Maarten to start medical school at the American University of the Caribbean Medical School in late August.
More than 450 students are eligible to participate in this year's ceremony; this number includes all spring, summer and fall 2020 graduates, as well as spring and summer 2021 graduates.
Dickinson State will confer nine master's degrees, 165 baccalaureate degrees and 43 associate degrees at the spring commencement ceremony for spring and summer 2021 graduates. Students will celebrate their graduation by walking across the platform to receive their diplomas from University President Steve Easton.
The graduates, faculty, staff, alumni and guests will also hear from Dr. Debora Dragseth, provost and vice president for academic affairs, and Danita Bye, a representative of the State Board of Higher Education.
Livestreaming of the ceremony will be available at www.dickinsonstate.edu. The ceremony will also be broadcast live on Consolidated's Channel 18.