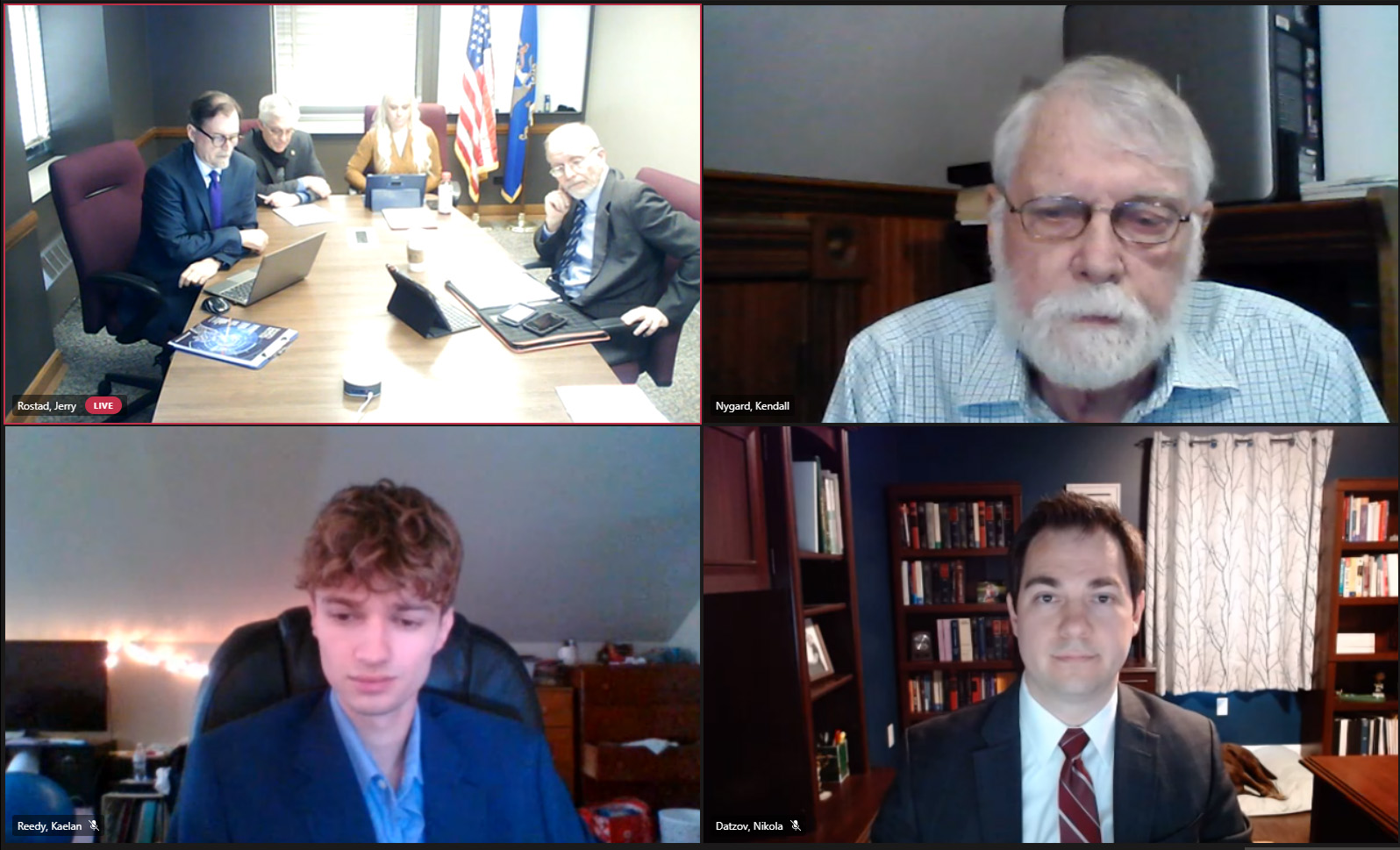 16 Apr

NDUS virtual panel explores ethics in tech

A virtual panel discussion held by the North Dakota University System this week focused on how state legislatures across the nation had explored proposals to rein in large technology firms.

Titled "The States vs. Big Tech," the panel was moderated by NDUS Chancellor Mark Hagerott, and included Sen. Kyle Davison, R-Fargo, lobbyist Lacee Bjork Anderson, University of North Dakota School of Law Assistant Professor Nikola Datzov, UND Student Body President Kaelan Reedy, Ken Nygaard, director of the Dakota Digital Academy, and Patrick McCloskey, editor of the Dakota Digital Review.

Davison is the state legislator behind Senate Bill 2333, which if passed would have placed restrictions on mobile device application stores such as Apple's App Store and Google's Google Play Store. Similar proposals to curtail large technology companies have been presented in Arizona, Florida, Georgia, Maryland, Minnesota, New York, Texas and Wisconsin.

The discussion kicked off with an introduction by McCloskey, who presented societal concerns such as monopolies and censorship. Hagerott asked Datzov about the scope of some of these technological issues as they intersect with legal issues, who noted that the tech companies had amassed so much power because the devices or programs they created had made life a bit easier or more convenient.

He noted there were layers of complexity to these issues, such as legality and if standards of the present could become the law of the future.

Nygaard then offered a brief explanation of the App and the Play Stores, and how they were essentially the central paths for individuals to find apps for whatever purpose they needed. With nearly eight billion people, more than four billion smart phones and ten billion "smart" connected devices, that created an effective monopolies that charged a 30 percent fee for listing apps on the respective stores.

Davison offered insight on the legislation he'd sponsored, which he noted had been put forward with economic development in mind as a way to create an entrepreneurial economic environment where developers wouldn't be forced to list apps on the two major stores. From his perspective that created significant cost to developers just to have their apps available to the general public.

Reedy said these issues impacted his generation, noting that one of his first memories was sitting with his dad and playing on a computer. He noted that these technologies had been around for his generation's entire lives, which created concerns for future.

Anderson said the issue would continue to be impactful for as long as technology had such a large part of individual's lives. She added that although the legislation in N.D. had failed, other states were bringing forward similar legislation which indicated a larger trend against Big Tech.

Additional comments revolved around digital security, censorship, privacy and liability issues. Panelists agreed that with changing times it would be essential for everyone from private individuals to legislators, students to faculty, to be aware of the tech landscape and the issues that can stem from it.