27 Apr

DSU's PBL chapter and members awarded during state conference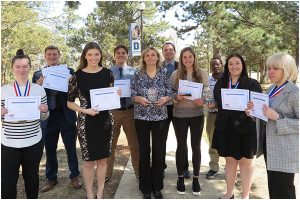 The members of Dickinson State University's (DSU) chapter of Phi Beta Lambda (PBL) and their advisor, Amy Kass, assistant professor of accounting at DSU, attended the PBL State Leadership Conference Friday and Saturday, April 9 and 10, 2021. During the remote conference, the students participated in workshops, networked with other college students and business professionals, and competed in a maximum of three career skills competitions of their choice.
A number of DSU students earned top placements in their individual and team competitions. These students will have the opportunity to move on to the next level of competition at the PBL National Leadership Conference in June.
Accounting for Professionals
First Place: Emily Axtman
Second Place: Natasha Baranko
Business Ethics
Second Place: Kyle Michel
Financial Services
First Place: Hugues Niyimbona
Job Interview
Second Place: Emily Carda
Justice Administration
First Place: Emily Carda
Management Analysis & Decision Making (team event)
Second Place: Rusty Dan & Madison Pearson
Microeconomics
First Place: Kyle Michel
Second Place: Emily Axtman
Third Place: Hugues Niyimbona
Organizational Behavior & Leadership
Third Place: Natasha Baranko
Personal Finance
Second Place: Emily Axtman
Programming Concepts
First Place: Osamudiamen Uwagbai
Retail Management
Second Place: Emily Carda
Sports Management & Marketing
Third Place: Braxton Selle
All PBL members are eligible to receive a "Who's Who" award that is presented to deserving individuals in recognition of their outstanding service to PBL, either at the chapter or state level. Several DSU PBL members earned this recognition for the 2020-21 academic year.
Who's Who Award (chapter level)
Emily Carda
Heidi Jazwa
Kyle Michel
Braxton Selle
Who's Who Award (state level)
Kyle Michel
Michel served as President for ND PBL this year and Vice President of Membership the previous year. Carda served ND PBL as Vice President of Membership this year and President last year. These individuals were instrumental in the planning and operation of the state conferences and other events held throughout the year. A special 'thank you' to Michel and Carda for representing DSU as they served on the ND PBL state officer team!
DSU's chapter of PBL also won three awards during the remote conference.
Dorothy L. Travis Outstanding Chapter
Largest Local Chapter Membership
Largest Percentage of Increase in Chapter Membership
"I'm very proud of DSU's Phi Beta Lambda students for their participation and achievements at the ND Phi Beta Lambda State Leadership Conference," said Kass. "They have worked hard to build their career and leadership skills for their competitions and were very successful in doing so. The students were not only recognized for their individual successes, but also for their success as a chapter when they were awarded three different ND PBL chapter awards."
Congratulations, students, and good luck at the PBL National Leadership Conference!