03 Jun

Dickinson State to offer "New North Dakotan" tuition rate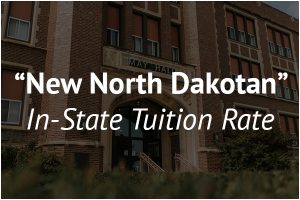 Dickinson State University's (DSU) innovative education has become more affordable for students through a tuition program approved by the North Dakota State Board of Higher Education (SBHE) during a meeting held Thursday, May 27, 2021. The program details a "New North Dakotan" undergraduate tuition rate for students in 21 states and Canadian provinces.
"At Dickinson State, we provide a tremendous value," said DSU President Steve Easton. "Our students have many opportunities inside and outside the classroom, at a very reasonable price. Students from throughout the American West will now have an even more affordable opportunity to obtain a small private school experience at Dickinson State at a low public school cost. We are pleased to help our students graduate with little or no debt."
The "New North Dakotan" rate, which will remain firm through summer 2023, guarantees in-state tuition rates for residents of the following states: Alaska, Nevada, Arizona, New Mexico, California, North Dakota, Colorado, Oklahoma, Hawaii, Oregon, Idaho, Saskatchewan, Kansas, South Dakota, Manitoba, Texas, Minnesota, Utah, Montana, Washington, Nebraska, Wyoming.
The University has also announced its intent to freeze tuition and fee rates for two years, guaranteeing that the cost of tuition and fees established in the 2020-2021 academic year will not change through summer 2023.
This plan, which was also approved during last week's SBHE meeting, will lock in educational costs for new and returning, resident and non-resident students in an effort to help them and their families better afford higher education in the midst of rising educational costs across the country.
Freezing tuition and fees will allow the University to better serve the region by recruiting and retaining individuals, and will support strategic enrollment management goals at DSU aimed at increasing headcount, fulltime enrollment (FTE), and credit production.
The following example represents costs based on 15 credit hours per semester. Actual costs will vary based on an individual student's credit load.
| | | |
| --- | --- | --- |
|   | Cost Per Credit Hour | Cost Per Semester |
| Undergraduate Resident/New North Dakotan | $249 | $3,735 |
| Undergraduate Non-Resident | $319 | $4,785 |
| Housing and Dining* | | $3,743 |
| Mandatory Fees | | $824 |
*Based on a double room and seven-day all-access plan option; rates will differ for students who live in suites or single rooms, and for those who choose other meal plans.
For more information, visit www.dickinsonstate.edu/tuition.