07 Jun

Gene Haas Foundation awards grant to support NDSCS Precision Machining Technology department

The Gene Haas Foundation has awarded a $35,000 grant to support the Precision Machining Technology department at North Dakota State College of Science. The funds will be used to award scholarships to 2021 and future NDSCS Precision Machining Technology students.

This year's award follows a $35,000 grant from the Gene Haas Foundation in the fall of 2020. The 2020 grant resulted in scholarships for 16 Precision Machining Technology students ranging from $250 to $2,500. The recipients include:
Jace Busenga-Olson, Wheaton, MN
Cole Chapin, Forman, ND
Patrick Dauer-Caulfield, Jamestown, ND
Hayden German, Hankinson, ND
Zachary Kallmeyer, Fargo, ND
Tyler Knott, West Fargo, ND
Zach Kort, Fergus Falls, MN
Brett Lunde, Cooperstown, ND
Damian McKay, Thompson, ND
Seth Olander, Hazen, ND
Kevin Revier, Courtenay, ND
Levi Schwab, Englevale, ND
Spencer Sears, Saint Francis, MN
Pitch Stadheim, Casselton, ND
Austin Torrance, Wahpeton, ND
Baron Van Oostling, Hensler, ND
Students in the NDSCS Precision Machining Technology program learn about CNC (Computer Numerical Control) programming, CNC set-up and operation, production machining, mold making, die making, toolmaking and automated manufacturing. In 2020, 100% of graduates from the Precision Machining Technology program found related employment or were continuing their education, with an average beginning monthly salary of $3,067. Additional information about the NDSCS Precision Machining Technology program can be found online at ndscs.edu/machining.
The purpose of the Gene Haas Foundation is to build skills in the machining industry by providing scholarships for CNC Machine Technology students and NIMS Credentials. The Gene Haas Foundation was founded in 1999 by Gene Haas, the owner of Haas Automation, Inc., America's leading builder of CNC machine tools. In 2020, the Gene Haas Foundation provided more than $17 million in grants, bringing the total since inception to more than $100 million.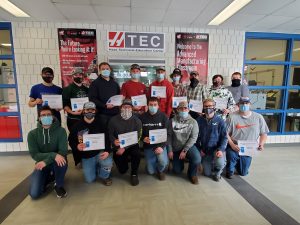 Photo caption: NDSCS Precision Machining Technology recipients for the Gene Haas Foundation awards for 2021. Back row, left-right: Tyler Knott, Damian McKay, Austin Torrance, Levi Schwab, Hayden German, Spencer Sears, Kevin Revier, Patrick Dauer Caulfield, Austin Erickson.Front row, left-right: Aaron Bohn, Zach Kort, Seth Olander, Cole Chapin, Jace Busenga-Olson, Mason Brown and Brett LundeNot pictured: Zach Kallmeyer, Pitch Stadheim and Baron Van Oostling