11 Jun

DSU President Easton presented #InnovativeND Award by ND Governor Burgum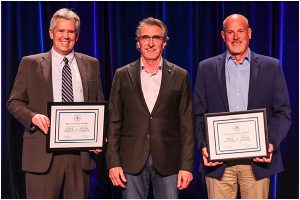 Dickinson State University's (DSU) President Steve Easton, in conjunction with Dickinson High School (DHS) Principal Kevin Hoherz, was selected to receive the #InnovativeND Award for System Transformation for his efforts toward revolutionizing education in Southwest North Dakota. State Governor Doug Burgum presented the award to Easton and Hoherz during the fifth annual Governor's Summit on Innovative Education held at the Bismarck Event Center Monday, June 7, 2021.
"With this monumental legislation and K-12 funding passed by the 67th Legislative Assembly, the door is now wide open for school districts to advance efforts to create personalized learning and empower our youth to be career, college, and life ready," Burgum said. "We're grateful to our state's educators for their amazing work on continuing to provide a top-notch education during this incredibly challenging school year and for their commitment to creating a world-class education system right here in North Dakota."
According to the Office of the Governor, the #InnovativeND awards "recognize students, educators, schools, and districts who lead by example and have embraced innovation for the benefit of our schools and students." Easton has worked to strengthen partnerships between DSU and other educational entities in the region, such as DHS, while also broadening students' learning opportunities. These efforts align with the University's dual mission designation, allowing students access to programs—such as welding, Commercial Driver's License (CDL), and Certified Nursing Assistant (CNA) courses—that are responsive to the workforce needs of the region. In addition, the new DSUlive™ initiative provides students the opportunity to choose to attend live online, removing barriers for those who cannot travel to the University's campus to take classes. Recently, DSU has increased course offerings for high school students and made it possible for them to attend via DSUlive™.
"We are very enthusiastic about our partnership with Dickinson High School, Stark Development Corporation, and other supporters, which is making it possible for Dickinson High School students to start their education at DSU early," said Easton. "Our joint DHS/DSU students have done solid work in their college classes, even in the difficult circumstances presented by COVID-19. We look forward to expanding this program with the growth of the DHS Career Academy."
The Governor's Summit allows professionals in the education sector to come together to share their experiences and inspire one another to seek new opportunities for growth. During the event, Governor Burgum highlighted recently passed legislation that benefits the students of North Dakota and thanked educators for their efforts through the pandemic. The audience was addressed by numerous state and national leaders, including State Superintendent Kirsten Baesler, and had the opportunity to participate in workshops throughout the day. Over 800 teachers, students, school administrators, and community leaders registered to attend the summit in-person or virtually.
"The Governor's Summit on Innovative Education was a very interesting program that reminded us of the importance of not being satisfied with the status quo, because we owe more to our students," added Easton. "We are proud to be innovating with DHS and we are working on furthering those efforts with other western North Dakota high schools as we work on the upcoming Career and Technical Education Center and expanding early entry programs for high school students to take DSU courses across our region. For example, we are working with Bowman County High School to have several of their students join a course via remote access this fall. We would love to work with any high school that is interested in starting their students on the path to a college degree."