20 Aug

Distinguished historian becomes DSU's first endowed chair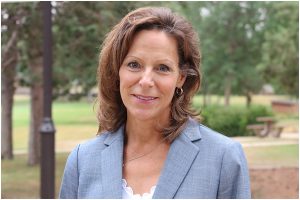 Thanks to Dennis and Vaune Johnson's generous gift that established Dickinson State University's (DSU) first endowed chair, we at the University are pleased to welcome New York Times bestselling author, distinguished historian, and award-winning professor Stacy Cordery, who holds a doctorate in history, as the Dennis & Vaune Johnson Endowed Chair for Theodore Roosevelt Honors Leadership Studies and as the Director of the Theodore Roosevelt Honors Leadership Program.
"I fell hard for North Dakota and the amazing people at DSU when we lived and worked here in 2011. I'm honored beyond words to have this opportunity to serve the DSU students and the larger community," shared Cordery.
Our newest Blue Hawk comes to us after having served in many higher education roles, most recently as professor of history at Iowa State University. She has contributed her knowledge to the Theodore Roosevelt Association, Women and Gender Historians of the Midwest, and the Society for Historians of the Gilded Age and the Progressive Era, among others. She has appeared on various television shows, including those on the History Channel and Smithsonian Channel, as well as numerous radio shows and podcasts, including NPR. Cordery has also been a Distinguished Visiting Scholar at the Theodore Roosevelt Center at DSU, has spoken at several Theodore Roosevelt Symposia at the University, and continues to consult in archival work of Roosevelt-related documents. Her published works include Juliette Gordon Low: The Remarkable Founder of the Girl Scouts; Alice: Alice Roosevelt Longworth, from White House Princess to Washington Power Broker, and Theodore Roosevelt: In the Vanguard of the Modern, among others.
"We're honored to bring this renowned author, award-winning professor, and gifted researcher and historian into the Blue Hawk family," said Dr. Debora Dragseth, provost and vice president of academic affairs. "We are looking forward to the impact Dr. Cordery will have on our students and our campus."
DSU students will certainly benefit from Cordery's passion and expertise. "It's very important to us in the Center to connect in deeper ways with our students," said Sharon Kilzer, project manager of DSU's Theodore Roosevelt Center, "and Stacy's very interested in finding ways to either get the students directly involved in the Center or help them make use of the digital library."
Learn more about Cordery by visiting her website: stacycordery.com.