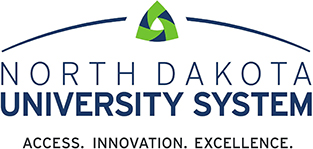 01 Mar

Board names new NDSU president

After hours of interviews and deliberations over the final three candidates, the State Board of Higher Education unanimously named David Cook, Ph.D., as the new president of North Dakota State University.

The morning opened with NDSU Presidential Search Co-Chairs Jill Louters, Ed.D. and Greg Lardy, Ph.D. detailing the following proceedings, which included interviews with Cook, Hesham El-Rewini, Ph.D., P.E., and Mary Holz Clause, Ph.D., followed by executive session to discuss the candidates in-depth.

Louters noted that the committee had been fantastic to work with since its inception in September 2021. She noted it was a diverse committee made up of faculty, staff, students, and community members and it held numerous listening sessions to determine what the community wanted from its candidates. Lardy noted the diverse members of the committee were highly engaged throughout the entirety of the search process.

Louters and Lardy then walked through the specific timeline of the search process, both for the Board and the other attendees.

The motion to name Cook president was accompanied by a second motion to grant him tenure in the College of Health Professions with unanimous approval. Cook then made his first announcement as incoming president via virtual connection.

"During my visit here, I was blown away by the deep pride the community and the state has for NDSU," Cook said during his interview. "There is a tremendous opportunity for partnerships and collaborations across the state. Being agile and flexible to student needs is very important and the enrollment issue demands more attention."

"I'm absolutely thrilled and excited," he said after being named the incoming president. "Thank you so much. This is an honor and a privilege, and I just can't wait to get started."

Board Business and Policies

Board member Tim Mihalick brought forward the Budget and Finance committee recommendations, which included an amendment to an earlier authorization for NDSU to increase the Nodak Insurance Football Performance Complex project from $37,200,000 to $50,000,000; an amendment to another authorization for NDSU to increase the Softball Indoor Facility project from $2,000,000 to $2,600,000; for Mayville State University to increase a project budget from $1,600,000 to $1,998,970; and for University of North Dakota to receive approval of $4,361,801 and $2,250,000, respectively, transfer of the NDUS System Office Tier II and Tier IIII capital building fund appropriation line to the UND capital building fund appropriation line. All were approved.

Board member Dr. John Warford brought forward the Academic and Student Affairs committee recommendations, including academic freedom and tenure. Three academic requests were considered from Minot State University and North Dakota State University. The committee also heard about student feedback on student mental health needs.

Board member Nick Hacker brought forward the Audit committee recommendations, including the North Dakota University System Internal Audit Independent Validation of the Quality Assessment. He said the audit received the highest rating that was available and congratulated the university system and internal auditors for that.

Board member Jeffry Volk provided an update on the North Dakota State College of Science Presidential Search, noted that interviews had been conducted virtually, four candidates had been invited to the campus and they were pleased with the overall pool. Campus visits will start March 1, which will include open forums and community surveys. Final deliberations to select finalists would take place by shortly thereafter.

Board Chair Dr. Casey Ryan and Board member Danita Bye provided respective updates on Research and Governance committee recommendations, which included time spent on the Board self-assessment, and the tools and methods to use for the 2022 self-assessment. Ryan noted that there was an update on the United States Innovation and Competition Act, which could mean federal funding for research in the state. Bye then spoke about the self-assessment process, noting that it was meant to increase feedback and note concerns.

The Board held the first reading of Policy 605.1 (Academic Freedom and Tenure; Academic Appointments), and the second readings of Policies 311 (Public Records) and 605.2 (Standing Committee on Faculty Rights).

In other business, the Board authorized the Chancellor, in his capacity as Plan Administrator and in consultation with legal counsel, to retain an attorney or attorneys to provide advice and counsel related to the Retirement Plan using an appropriate informal procurement process, and to authorize the payment of such attorney's legal fees from the revenue credits from the Plan.

Student member of the Board Gracie Lian reported on the North Dakota Student Association, noting that the organization would be meeting Friday and Saturday to meet behavioral health funding, and developing a budget.

Faculty advisor to the Board Elizabeth Legerski, Ph.D., reported on the Council of College Faculty, which had talked about the presidential review process, as well as concerns over what North Dakota may seen next legislative session regarding higher ed bills.

Staff advisor to the Board Retha Mattern reported on the State Staff Senate, who elected the next staff senate to the Board, Michael Linnell. Staff Senate had also discussed market value for compensation and how it is determined.

The next meeting is scheduled for March 31 at North Dakota State College of Science.