04 Mar

Theodore Roosevelt Center and DSU see the end of an era and the start of tremendous opportunities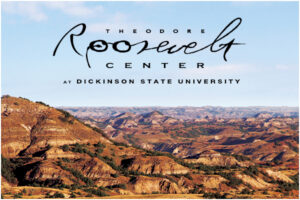 "Believe you can, and you are halfway there." – Theodore Roosevelt
For more than 20 years, DSU has embraced the vision of former DSU president Lee A. Vickers and public intellectual Clay Jenkinson to showcase the impact southwest North Dakota made on young Theodore Roosevelt. One of the ways the university chose to do this was by creating a digital research and archive facility devoted solely to Theodore Roosevelt, DSU's Theodore Roosevelt Center (TR Center).
The TR Center has been led from its inception by farsighted project manager Sharon Kilzer. Working with Jenkinson, DSU faculty, administrators, and state legislators, she implemented, cemented, and grew the vision of an unparalleled digital research facility. Kilzer shared the vision, working hard and successfully—often behind the scenes—on the monumental task of making Roosevelt's life and letters available to the world from right here in North Dakota.
"Keep your eyes on the stars and your feet on the ground." – Theodore Roosevelt
Very few presidents of the United States had as varied and interesting a life as Theodore Roosevelt. When DSU leaders planned the Theodore Roosevelt initiative in 2000, they imagined a large range of exciting projects. They began with DSU's students, creating the unique Theodore Roosevelt Honors Leadership Program (TRHLP), where academically gifted undergraduates study and practice leadership by donating hours to the local community. Then came Jenkinson's historical guidebook to TR's life in the Dakota Badlands, the annual TR Symposium, and the Theodore Roosevelt Center. The TR Center, described by one admirer as "creative and audacious," promised to bring international attention to western North Dakota and inspire interest in the influence of the region on TR's character and outlook.
The Badlands, TR's second home, proved an ideal choice for the Theodore Roosevelt Center. With the support of North Dakota's political leaders, the idea of digitizing Roosevelt's papers gained immediate traction from the many stakeholders whose support proved vital to its development. Initially, the North Dakota state legislature appropriated seed money. Talks with the Library of Congress were fruitful as they enthusiastically endorsed the project and offered expertise to support the digitization of Roosevelt's papers held in the nation's knowledge repository.
Additional archives and libraries holding TR papers—correspondence, manuscripts, notes, speeches, and more—eagerly allowed their holdings to be digitized as well, knowing that digitization preserved their materials while offering them to a wide and varied audience.
"Do what you can, with what you have, where you are." – Theodore Roosevelt
The result of these combined efforts is a world-class, electronic hub of Roosevelt research. Anyone, anywhere with access to the internet can peruse Roosevelt documents. No longer are arduous and expensive visits to the Library of Congress or Harvard University required to learn about Roosevelt firsthand. Metadata—descriptive information TR Center archivists carefully create to allow search engines and readers to find the documents—makes the entire archive searchable and easy to navigate.
Today, the TR Center is internationally recognized as the cornerstone of Roosevelt scholarship. It currently boasts over 70,000 published documents related to TR and hosts a popular TR Symposium thanks to Kilzer's skillful oversight. Dickinson entrepreneurs Dennis and Vaune Johnson and DSU alumna Melani Lowman Walton and her husband Rob have been long-time supporters of this vision to preserve TR's legacy of leadership. Both the Johnsons and the Waltons (through the Rob and Melani Walton Foundation) have made generous donations to create two endowed chairs that will contribute to Theodore Roosevelt studies at DSU.
These gifts arrived just as Kilzer has decided to pursue a missionary calling in the American southwest. After many years of service to her alma mater, she will be relocating to a border community, working with Roman Catholic ministries there to aid the less fortunate. Her leave-taking marks the end of a long and successful era at the TR Center. It also, along with the Johnson and Walton endowments, presents the campus with amazing opportunities.
"Dare mighty things." – Theodore Roosevelt
Times of change offer occasions for rethinking and reimagining. Kilzer is overseeing a series of key changes before she leaves North Dakota. Pulver Hall is currently under renovation. The TR Center will be relocated there along with a re-creation of Roosevelt's Sagamore Hill office, a proper research archive, a museum space, living quarters for the Theodore Roosevelt Honors Leadership Program students, apartments for visiting scholars, and an audio and video production studio.
DSU is also excited about this once-in-a-lifetime opportunity to bring on board a team of experts who will strengthen the Roosevelt imprint in North Dakota and move Dickinson State University to greater prominence. This team will consist of two endowed chairs that will contribute to Theodore Roosevelt studies at DSU, a new head of the TR Honors Leadership Program, a director of the Stoxen Library, and a director of the TR Center who will take over the position that Kilzer has so ably held.
The Walton endowed chair in TR studies will be one of the top Roosevelt scholars in the nation and will be an important connection to the Theodore Roosevelt Presidential Library and Museum (TRPLM) becoming a reality in Medora. In addition, the Walton chair will help DSU take advantage of the countless opportunities that will come its way for students in majors across the university.
The Johnson endowed chair in U.S. history will re-energize the history major, and—like the Walton chair—teach, research, and locate opportunities for DSU students in the community and beyond.
The new director of the TRHLP will continue to oversee an academically challenging program, create more local and regional internships, and work with the endowed chairs to seek out possibilities for TR scholars to meet and mingle with the dignitaries and experts who will come to Medora and Dickinson for TR Center research and events or on TRPLM business.
The new library director will have the opportunity to turn Stoxen Library into a modern learning commons—a dynamic place for student and faculty research, collaboration, and learning; a library that will truly be "the heart of the campus."
The person who steps into Kilzer's role as director of the TR Center will continue to coordinate with the many library, museum, and archival partnerships she expertly cultivated and to advance scholarship and interest in Theodore Roosevelt, DSU, and southwestern North Dakota.
Together this energetic and enterprising team will bring DSU as-yet-undreamed-of ideas and opportunities that will benefit the entire region.
DSU President Steve Easton said, "Sharon Kilzer should feel a justifiable and deep pride in her groundbreaking accomplishments. All of us—especially those who will take her mighty TR dream into DSU's future—owe her a tremendous debt of gratitude."