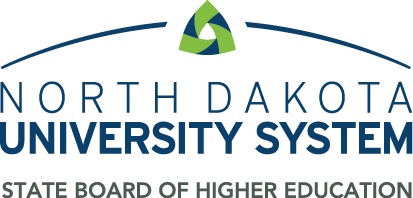 01 Apr

State Board selects NDSCS president

After hours of interviews and deliberations over the final three candidates, the State Board of Higher Education unanimously named Rod L. Flanigan, Ph.D., as the new president of North Dakota State College of Science and granted him tenured faculty status in the Technologies and Services Division.

The morning opened with NDSCS Presidential Search Co-Chairs Jeffry Volk detailing the overall search process, which concluded with interviews of Flanigan, Jeanine E. Gangeness Ph.D., and Carmen M. Simone Ph.D., followed by executive session to discuss the candidates in-depth.

Volk noted that the search process had been engaged for months to find the best candidates and forward them to the Board for final interviews. He offered a brief walkthrough of the timeline for the search process before opening the interviews.

"I know this is where I want to be," Flanigan said during his interview. "There are great things happening at this community college. I feel strongly about the community college mission. We help students achieve their dreams; this is what we do for people."

"Thank you so much for your vote of confidence," he added after being notified of the decision. "Everything I said, it came from the heart. I really believe I'm meant for this, and I have prepared for this."

"The co-chairs of the Presidential Search Committee and all the members who volunteered time did an excellent job of bringing forward strong leaders today," Board Chair Dr. Casey Ryan said. "We owe the committee gratitude for the hundreds of hours that were dedicated to the process. I am looking forward to continuing to see NDSCS flourish under the extensive leadership of Dr. Flanigan."

Board Business and Policies

Board member Tim Mihalick brought forward the Budget and Finance Committee agenda, including recommendations for transfer of $268,862, $500,000, and $500,000, respectively, of NDUS System Office Tier II and Tier III carryover capital building funds to the Dickinson State University capital building fund appropriation line; transfer of $572,801 and $500,000, respectively, of NDUS System Office Tier II and Tier III carryover capital building funds to the Minot State University capital building fund appropriation line; as well as the 2022-23 Tuition Rate Change Request and 2022-23 Room, Board and Fee Rates.

Board Vice Chair Jill Louters, Ed.D., brought forward the Academic and Student Affairs Committee agenda, which included approval of North Dakota State University Center for Entrepreneurship and Family Business, approved 22 new academic programs, and reviewed two resolutions from North Dakota Student Association regarding the recognition of Indigenous People's Day, and mental health awareness.

Board member Nick Hacker brought forward the Audit Committee agenda, which included an update on the Internal Audit Executive Survey.

Board Chair Dr. Casey Ryan and member Danita Bye respectively brought forward the Research and Governance Committee agendas, which included having heard a presentation on high level research from Mayville State University, and an update on strategic priorities in advance of the May annual retreat.

Chancellor Mark Hagerott updated the Board on Strategic Priorities and Planning, noting that six groups had been set up to research dynamic enrollment environment, educational pathways, challenges in talent recruitment and retention, changing economic funding conditions, the technical transformation and digitization of society, and legislative relations and policy implications.

Student Member of the Board Gracie Lian brought forward an update from the NDSA, which held its most recent meeting and spoke about behavioral health, observing Indigenous People's Day, discussing legislative session, and electing new officers. Faculty Advisor to the Board Elizabeth Legerski, Ph.D., brought an update from the Council of College Faculty, who met in early March to hold elections. Legerski said that Lisa Montplaisir, Ph.D., will be joining the Board as the next faculty advisor. She added that CCF had passed a resolution defending academic freedom. Staff Advisor to the Board Retha Mattern brough an update on Staff Senate, including that they would be meeting at Dickinson State University for its annual meeting, and

In other business, the Board reappointed Mihalick to the North Dakota University System Foundation, approved honorary degrees, and held the second reading of Policy 605.1 (Academic Freedom and Tenure; Academic Appointments). The next meeting will take place April 28, to be followed by the annual retreat and meeting at Bismarck State College May 25 and 26.