09 May

DSU awards honorary bachelor's degree to local philanthropist and entrepreneur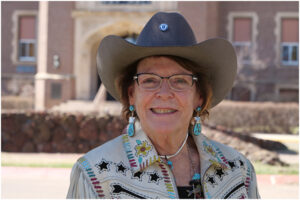 Dickinson State University (DSU) announced that it will be awarding an Honorary Bachelor of Arts degree to Sandi Lang Frenzel during the 2022 Commencement ceremony Saturday, May 14, 2022. Frenzel is an area philanthropist and entrepreneur, and well known for her business savvy and love for her community.
DSU President Steve Easton shared, "At Dickinson State, we have only awarded honorary degrees a few times in our over 100 years of existence. Ms. Sandi Frenzel is worthy of this rare honor. She has been a model of service to our community and state."
Sandi Lang Frenzel was born in Bismarck, North Dakota and raised on a farm-ranch about 1 ½ miles north of Sterling. She attended Sterling grade school and graduated from Bismarck High School. In 1975, she moved to Dickinson and became a licensed real estate agent and a real estate broker in 1977. Shortly after, she married Joe Frenzel. They purchased Everett Real Estate in the mid-1980s after Sandi Frenzel had worked there for several years. They started the Wendy's restaurant in Dickinson and owned it from 1983 to 2003.
Sandi Frenzel has been very active in the Dickinson and greater-North Dakota communities. She has served as president of the North Dakota Association of Realtors and as a member of the State Gaming Commission and the ND Optometry Board. She also served as a lay member of the State Bar Association of North Dakota Disciplinary Board. In all of these uncompensated positions, Sandi Frenzel has volunteered her time and her considerable talent and judgment for the good of North Dakota's citizens.
On the local level, Sandi Frenzel is known as a "go to" volunteer and organizer. When something needs to be done in southwestern North Dakota, organizations often turn to her.
Ty Orton, executive director of the DSU Heritage Foundation, stated, "Sandi is extremely hardworking. She has always placed 100% into everything she has a passion for. Building businesses and ranches, she has worked very hard to create a successful life and to share her success with others." At Dickinson State alone, Sandi Frenzel has served on the DSU Heritage Foundation board, Yuletyme committee, Rodeo Council, and the Cowboys and Candlelight committee.
Sharon Kilzer, project manager at the DSU Theodore Roosevelt Center, shared her experiences working with Sandi Frenzel throughout the years. Kilzer stated, "Sandi's contributions through community leadership and financial support, and her ongoing desire to learn and grow, exemplify the qualities of lifelong learning and service that we desire Dickinson State University graduates to emulate."
In true selfless leadership form, Sandi Frenzel was humbled when she was notified of the news. "I was certainly surprised and pleased when I was told of the honor DSU was bestowing on me. Having a degree has been a life goal—a bucket list item that I wanted to achieve before I left this earth," she shared. "Dickinson State is very important to me and also to the community and surrounding region. When I moved here 47 years ago, one of the main reasons I chose Dickinson was because of the presence of a university. A university helps to keep a community vibrant."
The 2022 Commencement ceremony will be held Saturday, May 14, 2022, on the DSU campus at 10 a.m. MDT in Scott Gymnasium. The community is invited to attend the ceremony.