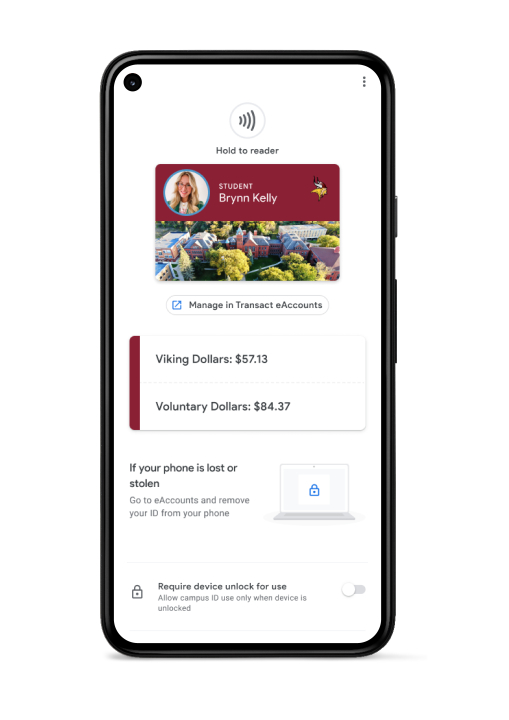 25 Jul

Valley City State Launches Viking Mobile ID

Valley City, North Dakota – Valley City State University (VCSU) today launched the Viking Mobile ID for iPhone, Apple Watch, and Android Phones.  Students can use the Viking Mobile ID on campus with just a tap of their mobile device.

Students, faculty, and staff can add their Viking Mobile ID to Apple Wallet or Google Pay and use their iPhones, Apple Watches, or Android phones to conveniently, safely, and securely access campus buildings, purchase meals, and more.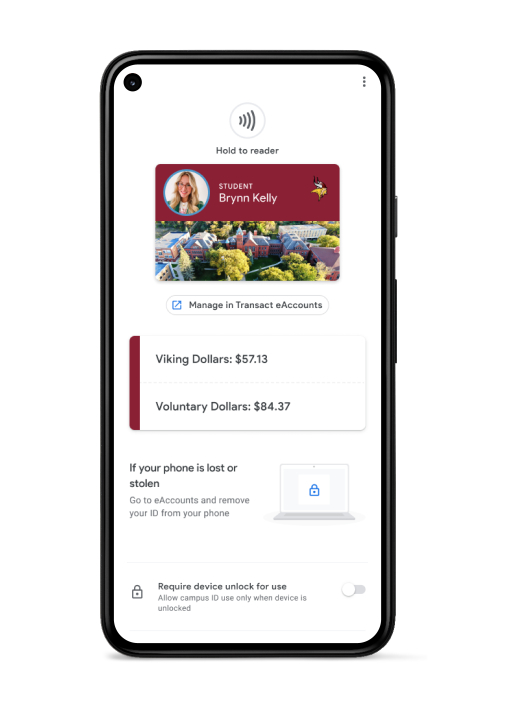 With mobile IDs, students can complete any action that would have previously required a physical ID card.  A device with the Viking Mobile ID can be used to access residence halls as assigned, check out a book at the Allen Memorial Library, purchase a meal at the Viking Café or Viking I, buy coffee at Viking Grounds or make purchases at the campus bookstore.
"Moving from physical cards to a contactless Viking Mobile ID allows for transactions that are safe, convenient, and highly secure," President Alan LaFave said. "This also helps students avoid touching the readers or handing their ID cards to someone else. The safety and security of students and employees is a top priority. The Viking Mobile ID is a great addition to the VCSU experience."
The Viking Mobile ID is also protected by two-factor authentication.
"VCSU continues to provide technology leadership in North Dakota higher education," Joe Tykwinski, VCSU Chief Information Officer, said. "The latest mobile solutions help ensure students and employees have convenient access to the information and services they need."
To set up their mobile school ID, students must download the eAccounts app, authenticate with their university credentials, and then add their Viking Mobile ID to Apple Wallet or Google Pay.  For more information, visit https://www.vcsu.edu/student-life/campus-resources/viking-card. If you need help setting up Viking Mobile ID, please visit the Technology Desk at the Rhoades Science Center or by calling (701) 845-7340.
For more information about VCSU or to arrange an interview contact Tammy Jo Anderson at tammyjo.taft@vcsu.edu or by calling (701) 845-7227.
###