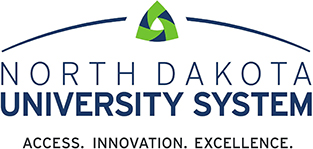 05 Jul

Board hears Math Pathways program details

During its last meeting of the fiscal year, the State Board of Higher Education heard numerous topics, including a presentation on Math Pathways, a path forward for students to take a math class that is most appropriate for their major.

Valley City State University President Al LaFave and Dr. Jamie Wirth detailed the Pathways initiative, as well as the VCSU IN-STEM summer camps. During his presentation, Wirth covered things such as open educational resources for general education math and how VCSU had led the effort to create the Pathways initiative on behalf of students. He noted that initially it had been referred to as "vertical alignment" as a collaborative effort between K-12 and higher education. Wirth said that not everyone needed a standard algebra education and having systemwide efforts in place helped spread the notion.

Wirth also touched on IN-STEM, a collaboration with New Town STEM Academy. Two students who had been with the program for more than five years spoke to the Board about their experiences in the program and how it had set them up for success. The program started in 2018 in New Town and to date had provided 141 student experiences via a four-day residential experience at VCSU. Wirth then detailed the curriculum, which culminated in a weeklong research project. Currently the project is funded through 2024.

Chancellor Mark Hagerott then updated the Board on the Envision 2035 initiative. He noted that the feedback he had received so far had been very helpful, and nine focus areas had emerged from the brainstorming already underway. He noted the current list, which all looked to the future needs of the university system including which Board members and presidents would be leading each group.

The Board then reviewed the Fiscal Year 24 and 25 operating budget and campus assessments, including discussion on equity pay for the vice chancellors and senior officers. Vice Chancellor for Administrative Affairs and Chief Financial Officer David Krebsbach detailed the MOU, noting how it impacted Minnesota and North Dakota students. Krebsbach also brought forward the Minnesota reciprocity memorandum of understanding for 2023-24.

At this point, the Board entered executive session to discuss details surrounding the renewal contracts of the presidents and the chancellor. After closing out executive session, all contracts up for renewal were renewed.

Member Nick Hacker brought up executive compensation, noting that vice chancellors and the chief of staff had received equity raises on top of the six percent increases the state had put in place for employees. He added that effectively created a situation where some of them were being paid more than some presidents, and ultimately motioned for a presidential salary study be done within the next year, and if not, the equity increases for those individuals should be rescinded.

The Board then spent time discussing the Minnesota North Star Promise free college tuition initiative, which would provide free tuition to any students whose family earned less than $80,000 per year. The initiative could potentially impact thousands of students across five institutions: North Dakota State University, University of North Dakota, North Dakota State College of Science, Mayville State University, and Valley City State University.

NDSU President Dave Cook noted that the enrollment challenge that could create would be catastrophic. Other presidents and vice provosts also testified on the growing need for a study on enrollment and tuition funding. Ultimately the Board decided that an official response would be needed, including working with the governor's office to call for a special session to consider options.

The Board then heard on the topic of Innovative Recruitment and Enrollment Strategies, presented by Warford and Presidents Van Horn, Jensen, Cook, and LaFave.

Board committees, policies

Incoming Chair Tim Mihalick brought forward the Budget and Finance committee agenda, which included ratification of roughly $763,000 from the NDUS System Office Tier II and Tier IIII capital building fund appropriation line to the North Dakota State College of Science.

Member Nick Hacker brought forward the Audit committee agenda, which included the Fiscal Year 2024 internal audit plan, the NDUS internal audit purpose and mission, and the 2023 annual independence confirmations for Internal Audit, Compliance, and the Internal Audit 2025 biennium budget.

Chair Casey Ryan and Member Danita Bye respectively brought forward the Research and Governance committee agenda, which focused on guidelines for economic diversification research grants.

Incoming Vice Chair John Warford brought up the Academic and Student Affairs committee, noting new program approval.

Ryan and Mihalick brought forward the Post-Tenure Ad Hoc committee noting that CHIPs was still underway with collaboration among state universities.

Student Member of the Board Sadie Hanson provided an update from the North Dakota Student Association, noting that the organization had not met over the summer. She added that she was grateful to be reappointed – the first student in Board history to be reappointed.

Staff Advisor to the Board Michael Linnell provided an update from State Staff Senate, noting they met for their annual retreat that included numerous breakout sessions that were well-received.

In other business, the Board held first readings of Policies 100.6 (Authority & Responsibility of the State Board of Higher Education), 302.2 (Audit Committee Charter) and 306.2 (Internal Audit Charter (Part A)), and the second reading of Policy 311 (Public Records). All were approved. The Board also went through its annual training on open meetings and open records, heard an update on TikTok from Vice Chancellor for Information Technology and Chief Information Officer Darin King, and reviewed the latest WICHE report.