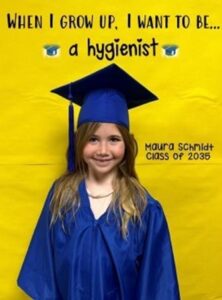 Meet Maura Schmidt – all smiles in her cap and gown at kindergarten graduation. She currently wants to become a dental hygienist after graduating from high school in 2035 and she may very well fulfill her dream one day. 
But transformative changes are occurring across most sectors of the global economy. Here in North Dakota, the pace of discovery in artificial intelligence, precision agriculture, unmanned systems, and renewable energy continues to accelerate. These changes may influence Maura to reconsider her plans. What exactly will the world look like when Maura Schmidt graduates from high school in 2035? What will the job market look like; what training and skills will she need to master; what will be her possibilities?  
The ND State Board of Higher Education commissioned nine study groups and the findings were presented at the Envision 2035 Summit on November 1, 2023.